Site map :


Last upgrade to the site:
august 10th, 2002.

There has been


access to my Lego pages since creation.


This is an unofficial LEGOŽ web site.
LEGOŽ is a trademark of the LEGOŽ Group of companies which does not sponsor, authorize or endorse this site.
You can visit the official LEGO website at: http://www.lego.com
Copyright 1996, 2000, Denis Cousineau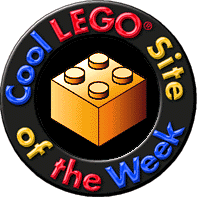 This site was voted Cool Lego site of the week August 20 to 26,2000.
References and link to other interesting Technic Lego pages
(5 stars are must-see or must-have):
Pieces registry and good Technic designs

| | |
| --- | --- |
| | |
| | Leo's LEGO Designs very imaginative stuff. |
| | Direction unifier interesting application of the ratchets. |
| | |
| --- | --- |
| | Robots |
| | |
| --- | --- |
| | Pneumatics |
Making CAD with Lego

| | |
| --- | --- |
| | Many good words goes to the LDraw community. Mainly located at www.ldraw.org. Mostly used here were MLCAD and L3P in collaboration with the excellent POV-Ray tracer. |
These books are essentials:

| | |
| --- | --- |
| | Gordon McComb, (1987). Robot Builder's Bonanza, 99 inexpensive robotics projects, TAB Books, 250 p. |
| | Knudsen, J. B. (1999), The unofficial Guide to Lego Mindstorms Robots, O'Reilly & Associates, 247 p. |
| | Ferrari, M., Ferrari, G., and Hempel, R. (2002). Building robots with Lego Mindstorms, Syngress Book [editor page] |
| | Baum , D. (2000), Definitive Guide to Lego Mindstorms, Apress, 385 p. [editor page] |