Site map :


Last upgrade to the site:
august 10th, 2002.

There has been


access to my Lego pages since creation.


This is an unofficial LEGOŽ web site.
LEGOŽ is a trademark of the LEGOŽ Group of companies which does not sponsor, authorize or endorse this site.
You can visit the official LEGO website at: http://www.lego.com
Copyright 1996, 2000, Denis Cousineau
Lego ratchet
A ratchet is quite easy to build using Lego pieces. The following design is borrowed from Dave Baum's book (see references and links on the side):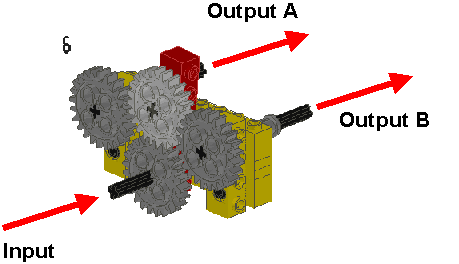 How to make it
How it works
This is pretty simple. The red beam is free floating. Therefore, with the little amount of friction available, how the input turns can rotate the red beam toward the left or the right output.