Well, it seems that building an Eiffel tower is an interesting challenge. How can we build a structure using Lego bricks that can support a very large weight? Below, I suggest a structure that can support 50 kg (100 lbs). I made a seat with it! Sadly, I don't have enough pieces to complete it (the design requires 6000 pieces, for a total height of 3 meters - near 9 feet tall).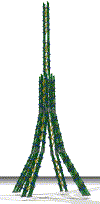 This is the resulting plan. It does not include a balcony on the first level, nor a second floor. For this, I would need to actually build the bottom of the tower, but I only have enough pieces to build 2 of the four legs...

The basic architecture is very simple, as seen on this picture of a leg. Beams are connected with chevrons at regular interval.

The beam, the core of the structure, is made of four 1 X 16 bump beams.
Although it does not look exactly like the real Eiffel tower, this structure is very robust, and I estimate that I can make an enlarged version reaching 25 meters, and suspend underneath it a swing for the younger.