Electronic ratchets
The exact same mechanism as the one done with Lego can be made using simple electronic circuit. One electronic piece to know is the diode. Diodes are acting like one ways. Electricity can flow in only one direction. Therefore, if the RCX is sending current with one polarity, it will flow through the diode oriented in the same direction but not through another diode placed in reverse.
Diodes are represented in schematics using this symbol:

The overall schematic is very simple: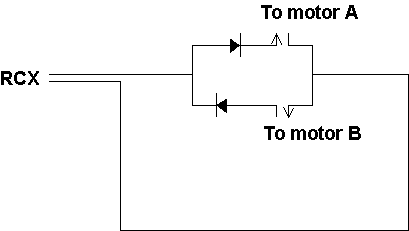 and can be easily soldered on a small plate (about 7 x 4 holes in dimension) small enough to be inserted inside a 2 x 4 brick. The connections, to be compatible with other Lego parts are soldered to a 2 x 4 Lego electric plate, separated in two:

The final result should look like: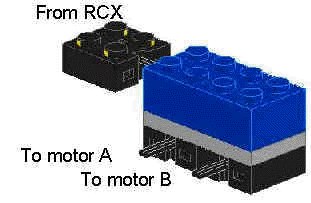 One useful application of the electronic ratchet is in controlling pneumatics with only one RCX output and no motor (see section on pneumatics).