Site map :


Last upgrade to the site:
august 10th, 2002.

There has been


access to my Lego pages since creation.


This is an unofficial LEGOŽ web site.
LEGOŽ is a trademark of the LEGOŽ Group of companies which does not sponsor, authorize or endorse this site.
You can visit the official LEGO website at: http://www.lego.com
Copyright 1996, 2000, Denis Cousineau
Theses pages are dedicated to my realizations using Lego Technic.
My main interests consist in making computer-controlled Lego robots. For example, it would be cool if I could make an autonomous robot that could send me a e-mail if it is stuck somewhere, with a map of its location!

The Ultimate Turing machine made out of Lego!

Tired of having a computer that crashes all the time? This era is finished! Built your own 1-hz computer out of Lego!

Read more in the "Various" section under Turing machine.
Here are some of my realizations, divided into four sections:
In Various stuff, you will find the adder-subtractor, a very helpful module to control your robots; there is also towers and a security device to save the life of your minifig.

In Robots, some of my robots are described (sometimes with the LDRAW files). There are ants and two robotic arms.

In Physics of Lego, I describe methods to measure the strength of Lego motors and pneumatics. Also, you can obtain the size and weight of Lego bricks.

In the RCX Mindstorms stuff, I present a program that will help you program your RCX brick. The freeware PRO-BOT 2000 is specifically intended to make communications between programs on your RCX and programs on your PC easier.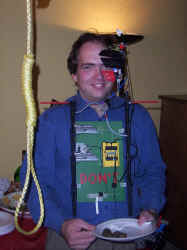 All resistance is futile. You will be assimilated.
The Borgs are over. They notice that they could rust. The colony therefore assimilated the Lego, but turned out to be assimilated by them!